Our community-elected volunteers are a testament to the importance of women leadership in water
Across more than 27,000 communities in Kenya, Uganda, and Malawi, our Dispensers for Safe Water program provides access to safe water to more than 4 million people—a vital service that every year prevents hundreds of thousands of cases of diarrhea-inducing waterborne diseases, a leading cause of child mortality. A core component of the program is a network of over 54,000 community-elected volunteers known as promoters, a leadership role mostly held by women. In Malawi, over 80% of our promoters are women; in Kenya, over 70%.
Promoters are elected by their communities and are typically well-regarded by their neighbors, have spent most of their lives in the surrounding area, and take an active role in their communities. Some of their duties as promoters include teaching community members how to properly use the dispensers and about the risks of consuming untreated water, stocking the dispensers with chlorine, and reporting to Evidence Action when the dispensers have been damaged or need maintenance.
In many of the communities we serve, women and girls traditionally are responsible for their household water needs, a daily task that offers little social recognition. In contrast, as promoters, women have redefined their standing and often achieve status as water and health leaders in their communities. "[The community members] view promoters as leaders. Although it is a voluntary position, with its challenges here and there, the promoter is the one who leads the community and ensures that the community treats [its] water,"said Truphosa Ocholla, Lead Officer. Lead Officers are Evidence Action employees who serve as main points of contact for promoters.
The election of promoters is a critical process that happens soon after we identify a community water point that meets the criteria for our team to install a dispenser. Before we begin the installation, we engage with community members—including local leaders—to secure their buy-in. In the first meeting, we introduce how the Dispensers for Safe Water program works and the community votes on whether or not to install a dispenser at the community water point. If the vote is favorable, we hold a second meeting where the community comes together to learn how to properly use a dispenser, ask any questions they have about the program, and elect a promoter and an assistant promoter to serve in the roles on a volunteer basis.
Given the importance of these positions, prior to the election we share with the community a set of criteria we have identified that makes a promoter successful. An effective promoter tends to be someone who enjoys working with people, lives near the water point so they can easily respond to any needs that arise, is happy to reach out to their neighbors to create awareness of the benefits of using the dispensers, regularly attends meetings, has a reputation for being trustworthy, can read and write, and has access to a phone so they can contact Evidence Action.
After the election, our Lead Officers reach out to the selected candidates to make sure they understand the role, and are willing to assume the responsibility. Most readily accept, as they tend to feel a great sense of honor from being chosen by their peers for the position. Such was the case of Rose Okong'o, a promoter from Katieno, Kenya. "I am just proud because I am a female leader and I am given the chance to speak before people during gatherings in our community, and due to the knowledge I have passed to them, waterborne diseases have reduced greatly," said Okong'o.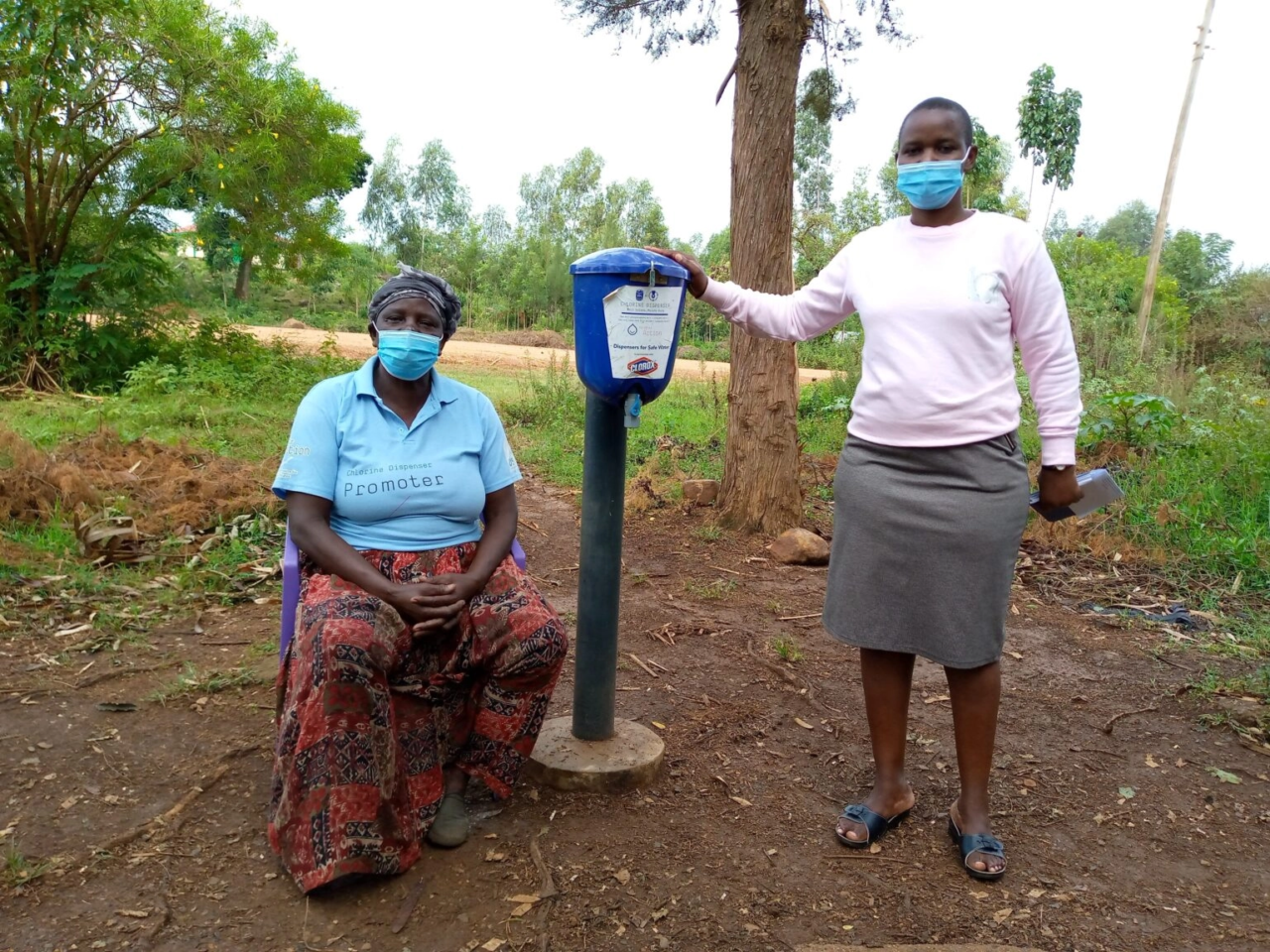 Promoter Rose Okong'o with Lead Officer Ruth Sabai by a chlorine dispenser in Migori County, Kenya. These women exemplify the importance of women leadership in water.
Promoters are supported by a network of Evidence Action employees to ensure uninterrupted service of the dispensers in their communities. They are in frequent communication with and are regularly visited by our team of community service assistants, who are responsible for ensuring dispensers are functioning and stocked with chlorine; by our circuit riders, who make the deliveries of chlorine to the promoters; and by our Lead Officers who perform quality checks and work with promoters to keep them motivated and engaged. The promoters also have access to a call center, specifically created to serve them with trained staff who speak multiple local languages, to quickly relay any issues occurring in the field to our regional teams.
For promoters, assuming a role as a community leader tends to influence other spheres of their lives. According to Lead Officer Ruth Sabai, a common characteristic among women promoters is that they are consistently advocating for the wellbeing of their children and their communities. As an example, she mentioned a teacher that has volunteered as a promoter for five years, who every day brings chlorine-treated water with a dispenser to her school so that the students have access to safe drinking water. "It is just the love for her work and also the love she has for the kids. She is very much aware that at her student's age it is very dangerous to drink untreated water as it might carry waterborne diseases," said Sabai.
For our Lead Officers, supporting the growing network of women leaders who serve as promoters helps shape the communities where they work. "When we work hard as women, we make the world a better place. These efforts motivate other women, even the young ones, who believe that maybe when they grow up, they could become like us. And so our little contributions really count and they make an impact," stated Ocholla.
As an organization, we strongly believe in the power of female leadership at all levels, and are proud that volunteers and staff are leading the charge in their communities and exemplifying the importance of women leadership in water in rural Kenya, Uganda, and Malawi. "As a woman working in the WASH sector, I'm inspired to see women seizing new leadership roles in communities where Dispensers for Safe Water operates and carving out opportunities for themselves to make significant progress in advancing safe WASH and health practices," said Jennifer Comer, Senior Manager, Dispensers for Safe Water.

Topics
Focus Area(s)
Program(s)
Location(s)