We are so very proud to report the results of the 2nd Kenya National School-Based Deworming Programme. Evidence Action's Deworm the World Initiative in Kenya and the Government of Kenya announced today at a press conference in Kenya that more than 6.4 million children were successfully dewormed, surpassing the national target of 5.7 million children by 12%. Deworming took place in nearly 16,000 schools in 28 counties that are endemic for parasitic worms.
This was the largest deworming exercise ever conducted in Kenya. A huge congrats to the Kenya Deworm the World team!
After two successful rounds of treatment, the prevalence of soil-transmitted helminths (STH) has bow dropped from 33% in 2012 to 6% in 2014 in 20 observed sub-counties.
Parasitic worms are a major public health problem in Kenya – at least five million school children are affected nationally. These worms have a negative impact on children's health and educational outcomes. Because schools offer a readily available, extensive, and sustained infrastructure, they are the most cost-effective way to deliver deworming tablets regularly to children. Evidence from rigorous studies conducted in Kenya has proven that school-based deworming is an effective intervention with tangible health, education, labour productivity and earnings benefits, and is one of the most cost-effective methods of increasing overall school attendance and participation. The World Health Organization (WHO) has confirmed that deworming tablets can be safely administered by teachers with support from the local health system.
The Government of Kenya launched a national, school-based deworming program in 2009 when 3.6 million children were dewormed in 45 Sub-Counties. The Program, relaunched in 2012, now targets more than 5 million children in 11,000 schools in 144 Sub-Counties within 29 Counties. Kenya's National School-Based Deworming program is implemented by the Ministries of Education and Health. The Deworm the World Initiative at Evidence Action provides technical support.
Here is a close look at the data:
6,405,645 children were treated for soil-transmitted helminthes (STH), exceeding the national target of 5.7 million children by 12%.
890,459 children were treated for schistosomiasis, exceeding the national target of 600,000 children by 33%.
15,864 schools were reached, surpassing the target of 11,000 schools.
143 Sub-Counties successfully implemented deworming, out of 144 Sub-Counties planned for.
28,248 teachers were trained to administer deworming tablets to children.
3,534 Sub-County and Ward personnel from the Health and Education ministries were trained on how to implement successful deworming within their respective Sub-Counties.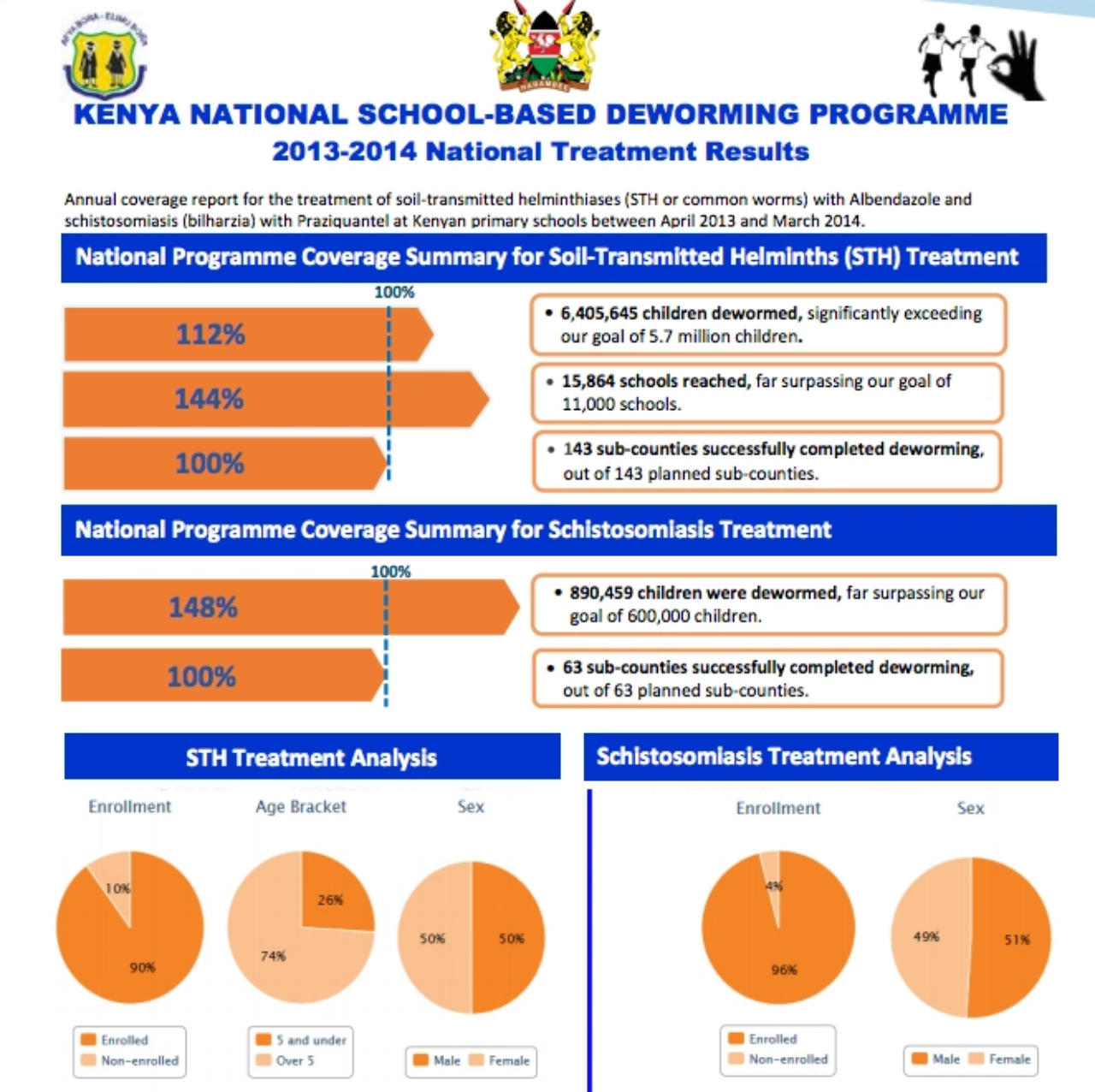 We are very grateful for the support of the Children's Investment Fund Foundation (CIFF) and The END Fund. The deworming medicines are provided by GlaxoSmithKline and Merck Serono through the World Health Organization to target two types of worms: soil-transmitted helminthes (common worms) and schistosomes (which cause bilharzia).
Contact for media inquiries: [email protected] or +1 315 314 4004
Focus Area(s)
Program(s)
Location(s)