A note from our CEO, Kanika Bahl
It's been an exciting and busy time at Evidence Action! Our work to double the footprint of Dispensers for Safe Water is well underway, and we recently held launch events in Uganda and Malawi with our government partners.

By 2023, we'll be reaching over 10% of the population of Uganda, and over 15% of the population of Malawi, with access to safe water – saving the lives of young children and improving the health of these communities. In addition, we are thrilled to begin implementing a new complementary solution, in-line chlorination. By treating communal piped water sources, this extremely promising device has the potential to dramatically expand the populations we can reach with safe water. We're starting out in Malawi, targeting an additional 375,000 people beyond those who we'll reach with dispensers. We have hired more than 130 new staff since the beginning of 2022 to support this safe water expansion!

We're also excited for the expansion of another of our newer programs – maternal syphilis testing and treatment – into Cameroon and Zambia. Over the next six years, we aim to reach more than 2 million women across the two countries, dramatically reducing stillbirths, neonatal deaths, and major adverse events in babies. This program will build on our early success in Liberia, where we're rapidly scaling to national-level coverage through health centers, working in close partnership with the government.

Cameroon and Zambia are new countries for Evidence Action, expanding our work to nine countries across Africa and Asia. We're excited to be increasing our global impact, growing our teams, and expanding our footprint to scale evidence-based and cost-effective work. And we're always looking for stellar people to join our team! Check out our careers page to see current openings (we've highlighted a few below as well).
Warmly,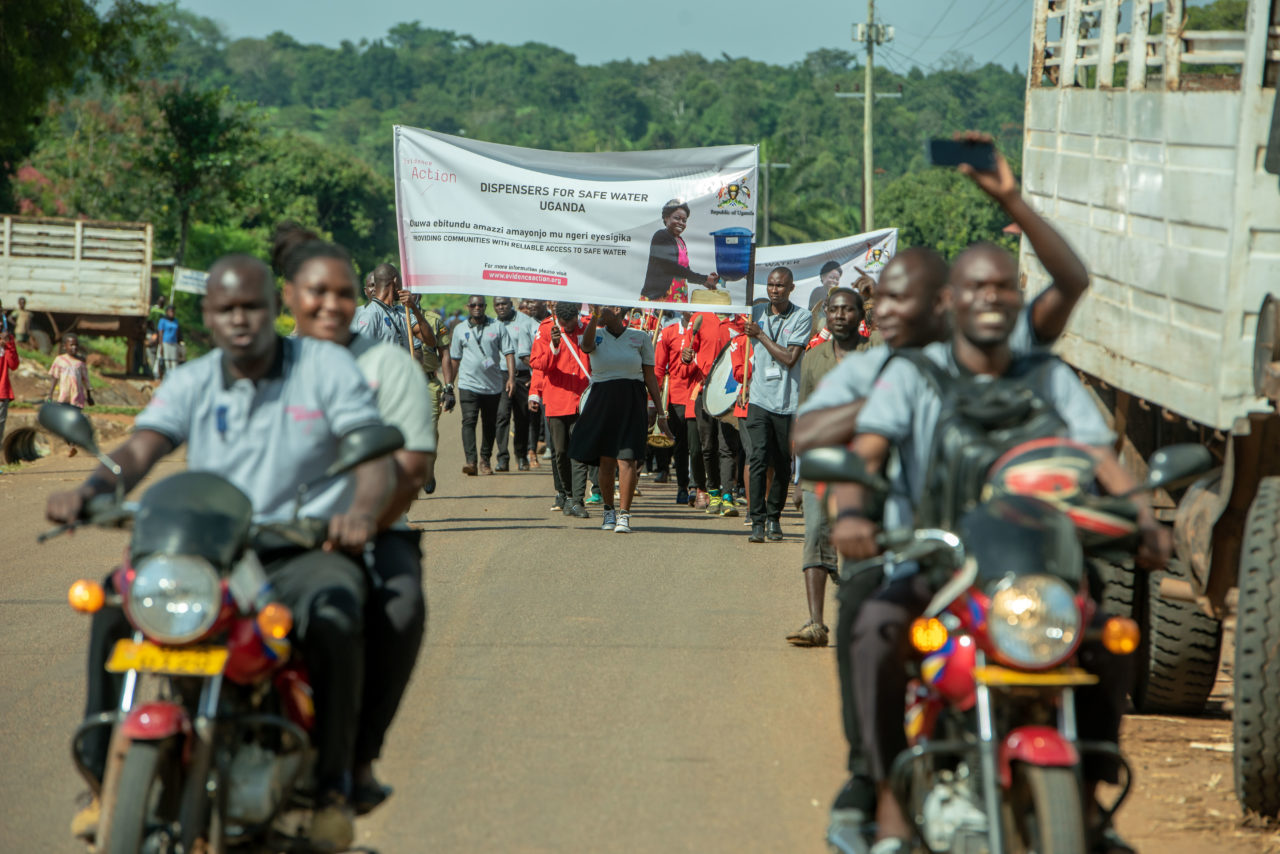 Deworm the World: Pandemic-Related Program Adaptations Continuing into the Future
We adapted our programs throughout the pandemic and, in doing so, tested new strategies and made changes that allowed us to continue improving the lives of millions of children. While some of these adaptations are temporary, other strategic adaptations have shown considerable return and will be maintained through 2022 and beyond.
A Change in Designation, Not Evaluation: Deworm the World and GiveWell's Top Charity Updates
Our take on GiveWell's recent announcement that they are splitting their designations into two funds: "Top Charities" and "All Grants" – the former which will prioritize their level of confidence in a charity's impact over the potential magnitude of that impact. GiveWell has made clear this does not reflect any change in their thinking about Deworm the World, which they will continue to support (along with many of our other programs!) through the All Grants Fund.
More Ugandans will now have free access to safe water
The article features the recent launch of our Dispensers for Safe Water program expansion in Uganda by the Minister of Water and Environment, the Honorable Sam Cheptoris. This expansion will see Evidence Action providing an estimated 10% of the country's population, or 40% of people in the Eastern Region, with access to safe water by 2023.
William MacAskill on Effective Altruism, Moral Progress, and Cultural Innovation
In this episode of the Conversations with Tyler podcast, William MacAskill lists Deworm the World amongst high-impact nonprofits as he discusses the effective altruism movement and effective ways to donate.

Expo 2020 Dubai's Global Best Practice Programme Guide
Expo 2020's Global Best Practice Programme highlighted Dispensers for Safe Water and 50 other programs that "hold immense potential to bring about transformational change." The Expo2020 Guide captures the stories and achievements of these programs, which are fighting global challenges in alignment with the United Nations Sustainable Development Goals.
UNC Water and Health Conference
The UNC Water Institute's Water and Health Conference 2022 will be held October 24-28; many of this year's sessions at one of the largest global water conferences will be virtual and free-of-charge. On October 27 our CEO Kanika Bahl will participate in a side event along with Professor Michael Kremer of U Chicago's Development Innovation Lab, and Hon. Sam Cheptoris, Minister of Water and Environment, Government of Uganda, discussing water treatment as a child survival intervention – this will take place in-person with a recording available following the event. Learn more and sign up here.
Senior Associate, Communications, Washington, DC
Country Director, Cameroon, Yaoundé Cameroon
Senior Associate, Cost-Effectiveness, Washington, DC
Manager, Employee Relations & Compliance, Nairobi Kenya
Program Manager, Safe Water, Iganga Uganda
Associate Director, Talent Strategy Washington, DC
Senior Manager, Finance and Accounting, West & Central Africa, Abuja, Nigeria
For all current openings, please visit our Careers page.