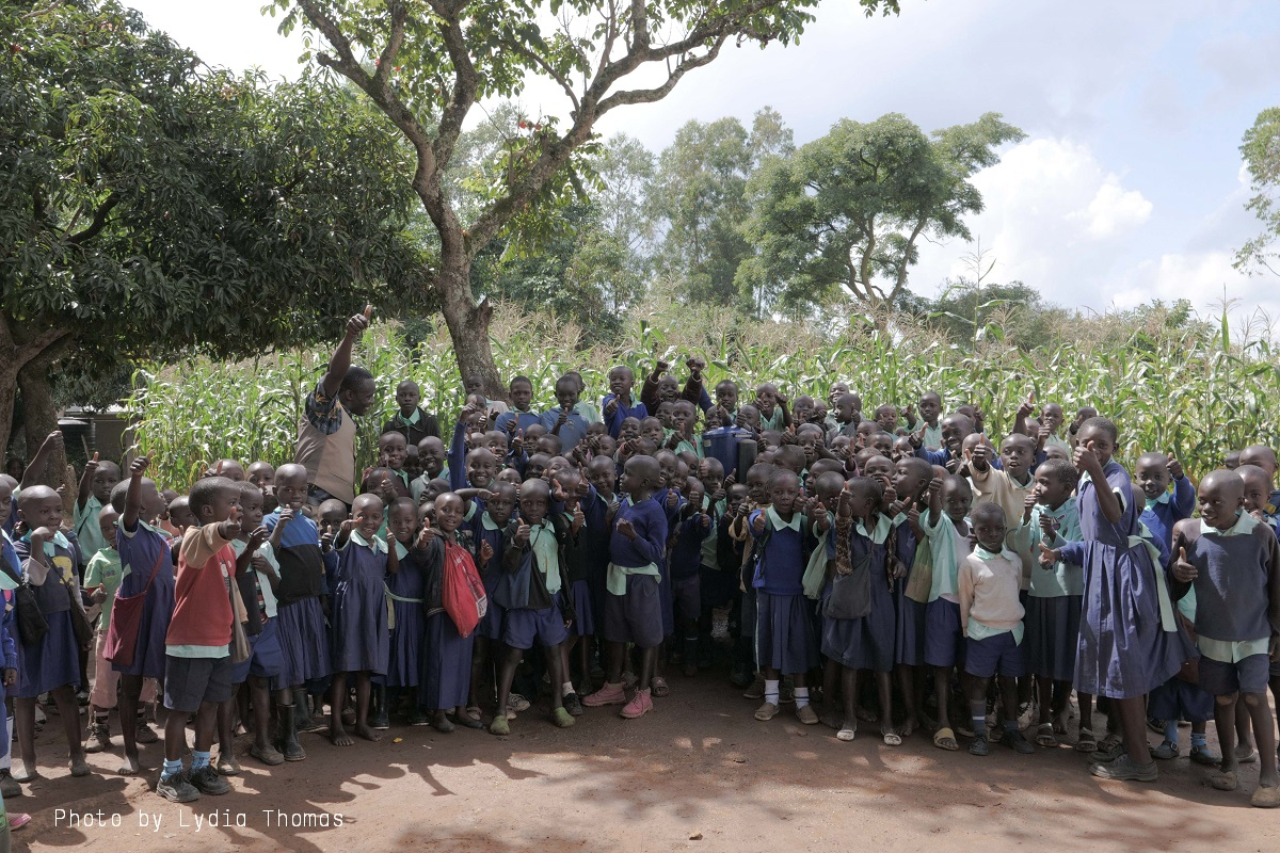 A Note from CEO, Kanika Bahl
As we embark on a new year, I wanted to take a few moments to reflect on our progress in 2018. Over the last 12 months, your support enabled us to have tremendous impact, reaching more than 280 million people in 10 countries across the globe. This meaningful impact on the lives of children and families enables improvements in health, education, and productivity – the building blocks of opportunity for those currently living in poverty.

The scale of our reach was fueled by your generosity – we received roughly $5.5 million in donations in 2018! This translates into tens of millions of lives impacted through cost-effective interventions. We're grateful for your continued investment in our evidence-based approach to global development.

In this newsletter, we share some highlights from 2018 and a glimpse of the year to come. I hope the updates and stories that follow offer you a sense of both the breadth and the depth of our collective impact.

With gratitude and best wishes for 2019,

2018 Highlights
Our Beta team grew by nearly 40% in 2018, significantly expanding our capacity to enhance program delivery and to monitor our later stage incubation programs like Winning Start and No Lean Season, as well as our ability to pursue new ideas with potential for cost-effective impact at scale – like improving the delivery of iron and folic acid supplements, or finding avenues to deliver early-childhood stimulation to children.
In 2018, the Deworm the World Initiative supported the deworming of over 280 million children by governments in India, Kenya, Ethiopia, Vietnam, and Nigeria. We continued to maintain outstanding cost-effectiveness, with program costs on average less than $0.50 per child per treatment round, and were named a GiveWell top charity for a sixth year in a row.
In 2018, average adoption rates for our Dispensers for Safe Water initiative rose from 51% in 2017 to 58% in 2018, as of December. Dispensers were functional 81% of the time in 2018 (up from 80% in 2017), and they went empty for an average of just four days in the year, down from 7 days in 2017. These improvements may be attributable to our ongoing efforts to retrain the volunteer "promoters" who make sure the dispensers work and contain chlorine, and encourage use amongst their neighbors.
Program and Incubation Updates
Our first RCT-at-scale of No Lean Season showed that the program did not yield the positive effects previously observed in smaller-scale trials. We think this may be due to growth-related implementation challenges. Having tried to address these, we are re-testing at scale and expecting another set of results later in 2019. Read more.
With ongoing support from GiveWell, we continue to work with the Government of India to explore whether and how we can offer technical support that improves the cost-effectiveness of India's national school-based iron and folic acid supplementation program, which aims to reduce anemia among children and adolescents.
In Kenya, our Teaching at the Right Level (TaRL) program Winning Start recently attracted a record 12,313 local, university-educated youth applicants seeking to volunteer to help kids learn. A recent blog post explains how we've improved our recruitment process to attract and retain high-quality volunteer candidates.
Deworm the World Initiative
In November 2018, we supported implementation of the Government of Kenya's lymphatic filariasis program, including a landmark, evidence-backed pilot of a new approach to treatment – the first of its kind in Africa. This triple drug therapy replaces the traditional two drugs given to at-risk populations, aiming to reduce the time it takes to break transmission of the disease from five years to (potentially) two.
In Vietnam, we worked with the government to conduct a fourth round of school-based deworming in November 2018, targeting roughly 750,000 school-age children. We also supported with the governments of two southern Nigerian states to deliver a second round of school-based deworming for 2018, targeting a total of over 1 million children.
Dispensers for Safe Water
In November/December 2018, our Dispensers for Safe Water initiative achieved a record high usage rate of 64%, indicating that more people with access to our chlorine dispensers are using them – translating to improved community health.
Have a birthday coming up? Create a Facebook fundraiser for Evidence Action for a gift that gives all year long. If you set your goal as $185, you could maintain a chlorine dispenser providing safe water to 144 people for an entire year!
Help amplify our work not only by fundraising, but also by friendraising! Encourage your friends to like us on Facebook and follow us on Twitter.

Community drug distributors went door-to-door in Hindi Town, Kenya as part of the pilot triple drug therapy for lymphatic filariasis (photo credit: The END Fund)
Winning Start in Kenya is designed to get children learning by using youth volunteers to help them develop basic literacy skills. Learn more through this video.
Looking ahead
We are partnering with Interactive Research & Development (IRD) to support preparations for the first school-based deworming campaign in Islamabad Capital Territory in Pakistan, following successful advocacy with the government to initiate a deworming program.
Planning for deworming in India and Kenya in February 2019 is well underway. Training cascades taking place this month will serve as a refresher for key government personnel, from master trainers at the state level to teachers responsible for administering medication.
Mr. Charles Otieno has been an area chief – a county-level government role – in Siaya County, Kenya since 2005. He was serving in this role when we initiated Dispensers for Safe Water in Siaya, helping obtain critical community buy-in from the outset. In the years since, he has felt the program's impact on the communities he leads and on his own family. "Since the project came," he says, "issues of typhoid have gone down." According to Charles, this decline has had a multiplier effect, improving community members' productivity and saving them money: "our people are now energetic and they can do other things without being down with typhoid…and the money that they would have spent treating typhoid is now used on other activities."


The program has also had an interesting effect on his own family, fostering greater harmony. "(We) used to boil water," Charles explains, "but telling my family to boil water was a big challenge…sometimes they did, sometimes they didn't." It's not surprising: boiling water to treat it is easy to forget and can be inconvenient if households have to wait for water to cool before drinking it. Chlorine dispensers, meanwhile, are conspicuous and located right next to the water point where people fetch water, automatically reminding community members to use them. Once chlorinated, water is treated as individuals walk home and typically ready to drink by the time they get there.

Today, Charles continues to support Dispensers for Safe Water, encouraging the communities he leads to protect and use our dispensers.