Evidence Action recognizes that schools are an important platform for influencing the health and well-being of students, families, and the whole community. We align with the view of the World Health Organization and United Nations Educational, Scientific and Cultural Organization that, at their best, schools are a safe, secure place where students can acquire the knowledge, attitudes, behavior, skills, and experiences that are the foundation for becoming healthy, educated, engaged citizens1. To that end, Evidence Action has been developing health content for school curriculum in India over the past few years in order to promote the well-being of students, their families, and their communities.
The Government of India is committed to improving the health of millions of children and adolescents through a number of public health interventions, including its flagship nutrition program Anemia Mukt Bharat (Anemia-free India). Each year, the government allocates significant financial resources2 to state governments to implement this program, with funding included for generating program awareness (including print and digital media) and community mobilization activities3. Evidence Action's robust government partnerships help to build consensus on content, navigate government timelines on curriculum revisions, and explore other platforms, such as online repositories and teacher training, for increasing accessibility of content to key target audiences: children, adolescents, teachers, parents, and caregivers.
Together with select state governments in India, we developed program content for the school curriculum to enable healthy practices among students, their families, and their communities – with the goal of helping enable healthy outcomes far beyond the classroom. Evidence Action provides technical assistance to state governments to implement the National Deworming Day (NDD) and Weekly Iron and Folic Acid Supplementation (WIFS) programs. Both of these programs leverage the potential of schools and government-run preschools (anganwadis) to reach children and adolescents aged 1-19. Since 2016, we have supported state health and education departments to integrate content from both programs into the school curriculum.
Developing Additions to School Curriculum
As we worked to develop content for both NDD and WIFS, we were driven by our understanding that for the programs to succeed in increasing awareness, they must provide people with relevant information through channels they trust. To ensure information was clear and accessible, we developed content with the age range of the audience in mind, focusing on clear illustrations and translating the content into regional languages to engage school-age children. By increasing awareness we generate demand for health services – in this case for children and adolescents to receive deworming tablets or iron and folic acid (IFA) supplementation at school. The additions to school curriculum not only enable students to learn about healthy habits and the benefits of these programs, but create an enabling environment by educating and sensitizing the school teachers responsible for program delivery.
"While the government was skeptical of adding more content to an already heavy school curriculum, we worked with them to ensure that excerpts from our proposal could be added in an exciting format for the young school-age children. Ultimately what worked in our favor was the government's trust in our technical assistance and the fact that the additions we facilitated were geared towards cultivating healthy habits in pupils and not merely as another lesson for year-end assessments."

Meena Jain, State Program Manager-Jharkhand (included NDD and WIFS program content in school books in 2021)
Departmental Collaboration
The buy-in of the health department is pivotal in moving this activity forward, as the education department requires all content added on health interventions to be vetted, approved, and signed off by health experts. To advocate for the inclusion of NDD and WIFS content in the school curriculum, our state program teams engaged with both the departments of health and education. The feedback received from the two departments was used to further customize the material and to better understand how we could ensure the inclusion of the content in the school curriculum of the upcoming academic years.
Integrating Content Across Platforms
In India, both the national and state governments have the authority to set school curriculum. In states where the central curriculum is followed, any modifications to the existing syllabus would be routed through the national Ministry of Education. However, states which set their own curriculum have greater autonomy in making modifications to the existing school curriculums, yet revisions are not necessarily regular or frequent.
Evidence Action teams worked with the departments of education to understand how curriculum revisions could move forward by using different platforms (e.g., school textbooks, website, teacher-training handbooks). In the states of Haryana, Jharkhand, Rajasthan, Tripura, and Uttar Pradesh, content on benefits of deworming, IFA supplementation, and good nutrition practices was added to textbooks for primary school students. In Telangana state, where curriculum revisions were not scheduled for the next academic year, the proposed additions were included in the state repository (resource material for the curriculum setting body in the state) for future reference. In Chhattisgarh state, it was posted to the state education board's website for quick reference by parents and teachers. In the state of Uttarakhand, where the central curriculum was being followed, content on the benefits of deworming and IFA supplementation was added to teacher training handbooks under the state's School Health Program in five districts, and will be taken up in schools through the teachers.
"Periodic interventions require institutional mechanisms to sustain progress. Incorporating awareness on health intervention into the school curriculum would let children learn about the [NDD] program and its benefits regularly in classrooms. We collaborated with the Department of Education and Evidence Action team to make this possible. Today the content is available on the Department of Education's (SCERT) website for quick access to students, their caregivers/parents, and teachers to enable sustained behavior change."

Dr. V. R. Bhagat, Deputy Director, Child Health, Department of Health and Family Welfare, Chhattisgarh
In the era of digitization of the traditional education space, making content available through online platforms enables a wider reach and can expand access to school-age children. The COVID-19 pandemic hastened the curriculum review process in a few states, with the department of education considering COVID-19-related content in learning materials across classes. We continue to engage with departments of health and education to identify and understand key entry points for proposed pertinent curriculum changes.
"Our state curriculum tries to teach students not only academic subjects but also prepare them to lead a healthy and happy life. We need to teach our children good habits at educational institutions, which they can enshrine for the rest of their lives and also contribute towards a healthier society. In the era of increasing online education we have made learning material on the deworming program and nutrition programs available on our website. The content is interactive and students and teachers can access it at only a few finger clicks."

Mr. M. K. Nayak , Assistant Director, Department of Education, Chhattisgarh
Through our technical assistance, eight Evidence Action-supported states have included NDD and WIFS content in school textbooks and teacher training handbooks, enabling significant reach: the target school-age population across these states is 90 million.4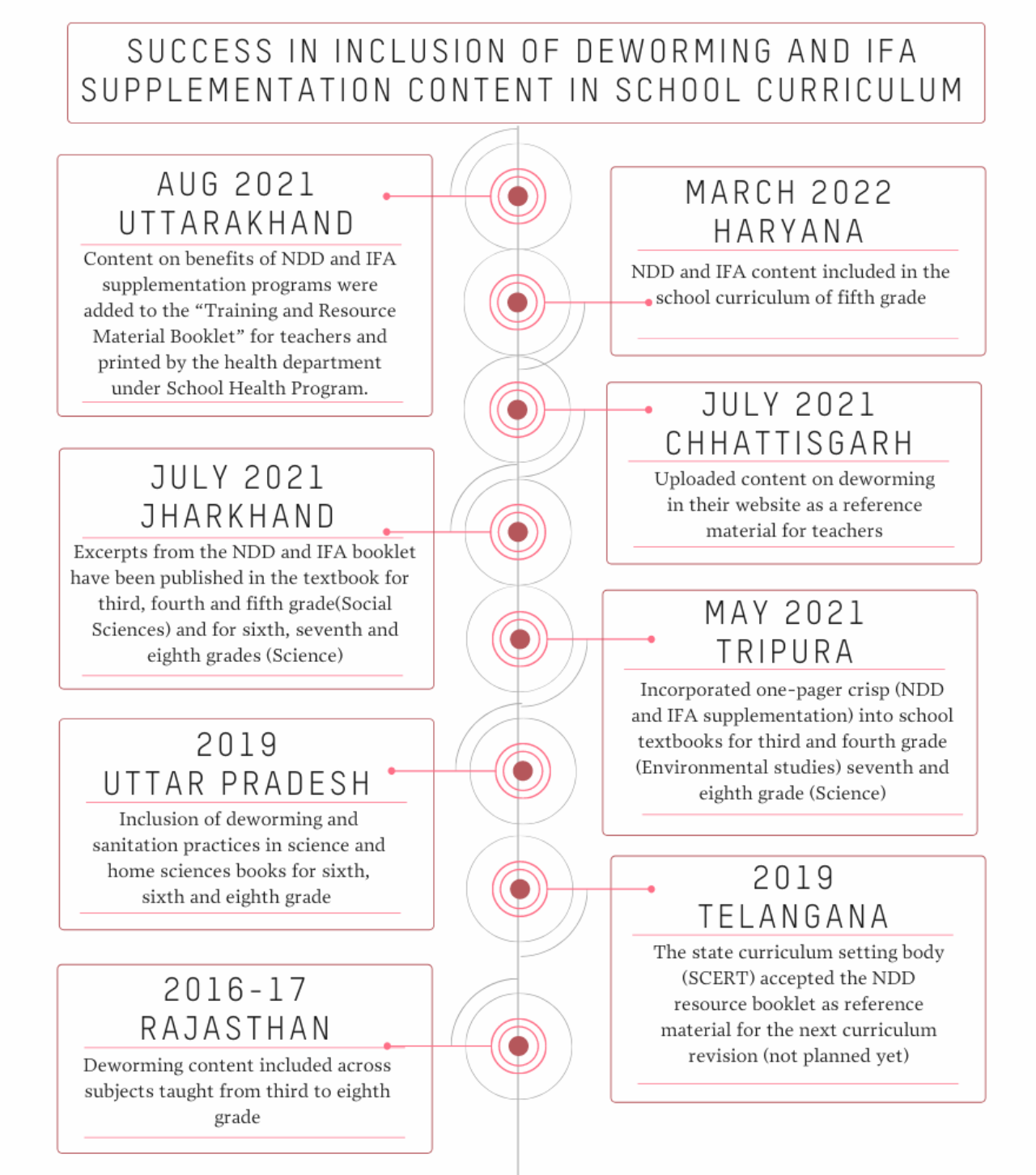 At Evidence Action we recognize that school teachers are influential figures in the lives of their students, parents and caregivers, and the community, and as such they play a pivotal role in introducing and cultivating healthy habits in the formative years of children and adolescents. Going forward, we intend to strengthen our engagement with the Department of Education in other Evidence Action supported states, and also build partnerships with the Department of Women and Child Development which oversees the states' anganwadi system. We would be doing so with the goal to add program content in the training curriculums of teachers and anganwadi workers. The latter group helps deliver the NDD and WIFS programs and also provide early childhood education to preschool age children (1-5 years). As we move forward, through our program monitoring and validation surveys, we will attempt to understand the incremental changes brought by the school curriculum additions, and use that information to improve our work in the future. By focusing on educating teachers and anganwadi workers who pass that information on to children and their families, we can help enable communities to actively seek public health programs— in turn generating positive momentum for the government to support ongoing delivery.
References
[1] Making every school a health-promoting school, WHO and UNESCO 2021
[2] In the FY 2021-22, 301 million USD were allocated by the GoI to state governments for carrying out activities pertaining to addressing anemia.
[3] For the FY 2021-22, in the 11 states where Evidence Action provides technical assistance for the NDD program, 15% (2.07 million USD) of the total budget allocated to these states was demarcated for IEC and printing activities. Similarly, in 5 states where we provide technical assistance on the WIFS program, 10.6% (12.8 million USD) was allocated to awareness activities.
[4] Unified District Information System for Education Plus (UDISE+) 2019-20
Topics
Focus Area(s)
Program(s)
Location(s)